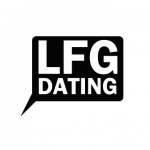 Hold up!  Before you press send on that very first private message to that special LFG member who caught your eye, let's make sure you're well aware of three of the biggest success factors that our premium members are winning with every day.
Before You Press Send: Some Instrumental Advice to Win at LFGdating
When you know, you know.  That precise moment when that special person appears in your premium matches will make you spill your coffee, and make your heart race; granted, the latter may be due to heavy dosages of the former, but you get my point.  That's the one.  Your mind has now switched from a caffeine-induced euphoria to that of a screaming version of Cupid, telling you over and over again that you cannot miss out on this golden opportunity to find not just love, but gaming love.  So you click on their profile, and within minutes you have virtually memorized every aspect of it like you are Jason Bourne walking into a diner.  You check out each and every photo of the personalized match, and each and every one confirms your original intuition: this is the one. But here's where we come in: HOLD UP.
Step 1: Go back to your profile page.
Now that you've viewed their profile, the next time they log in – if they're online already – they will almost certainly check out their "Who's Viewed Me Page?" to see if anyone has shown any interest.  As sneaky as you are Mr. or Ms. Bourne, there is no way to cover your tracks; they will soon notice you've been checking them out, and it is that moment to which our first piece of winning advice arrives: your profile picture.
If you don't have a profile picture posted of yourself, the only image they will see is the default picture, and that's not good.  While we completely understand if you don't want the other person to be superficial, or if you are unsure of your own looks, the major winning factor here is that having a profile picture of yourself portrays confidence.  It also equates to success, as we have the behind the scenes data to prove that users who have a profile picture are exponentially likely to garner a response to their very first message than those who do not.  You've already identified this person as potentially being the one, so why not put your best foot forward and confidently show them who are?
Step 2: There's one more to-do item on your profile page.
While we are close to rolling out the remaining portion of our new website design (just check out our front page for the wow factor), which includes completely revamped profile pages among many other improvements, we do offer a unique portion of each profile page that is our second winning factor for LFGdating success.  Specifically, I am talking about our "Say Something" section, which you can find at the bottom of every user's profile.  You don't have anything there do you?  That's okay!  That's why we're here.  It's easy to edit: after you log in and arrive at your own profile page, just click on the "edit profile" links in the menu on the right, and you'll be there in no time.
While match preferences such as tastes, location, age, etc, are critical to LFG's custom matching algorithm, it is this completely personalizable (just made that word up) section which is like your closing argument in the court room.  This is the place where either your empty or one-word answers will result in zero responses to your messages, or the place where you can let your creativity, wittiness, and genuine humor shine.  The most important key to remember here is that you really need to be yourself; when that special someone comes back to check your page out, the dating judge will almost always rule in your favor than if you've left the entire field blank.  Oh, and of course, Casey and I are always here to help if you need some creative input on what to put there; we're not Pulitzer-esque by any means, but profile help/suggestions are just one of the many services we provide to our premium members.
Step 3: Back to your message!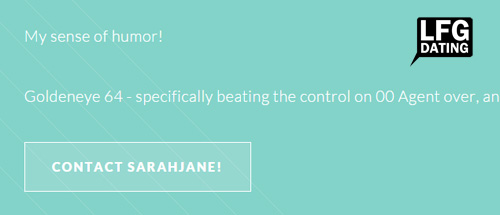 Alright, so your profile is razor sharp now: you've got a profile photo uploaded, and you've got everything completed to show that special someone exactly the awesome person that you are.  Our third and final key success factor to win at LFGdating boils down to the message itself, however our answer will continue a theme we presented in #2: be yourself.  While there is no one perfect message to send, the message that will provide the highest chance of success is one that is mature, simple, and sweet.  Don't write a novel, don't even bring up gaming (everyone games at LFGdating, so the absolute key here is to ask about THEM) yet, and just be yourself.  Heck, one of the best ways to win in the offline dating world is to simply walk up to someone and introduce yourself: "Hi, my name is so and so, what's yours?" Folks, it really is as simple as that.
Congrats on becoming a LFG premium member, and as always please hit us up if you need any profile advice!  We are always here to help our premium members around the clock, so please do not hesitate.  If you are still on the fence about unlocking the LFGdating premium experience, you do realize that a one month subscription only costs $5?  That's cheaper than a giant can of Red Bull at the gas station, or even a sandwich at just about any restaurant on earth; on top of that, we won't even bring up the math on how much cheaper we are than the big box dating sites.  It's a no-brainer!  If you're looking for a geek or gamer partner, LFGdating is the place to be: we are growing like wildfire, and have nothing but awesome things coming down the pipe.
Click here to get started for free today, and have a great rest of your weekend!