If you liked our last geek entertainment site feature, Forces of Geek, then you are going to love our latest find, Geeks of Doom!  Outside of the awesome site name, Geeks of Doom just oozes old school, and for good reason: the site has been pumping out regular content and updates since early 2005.  How many other sites in your bookmarks have been around – let alone have been regularly updated – for 11 years?  Probably not many.  More on Doom after the jump!
Sites We Like: Geeks of Doom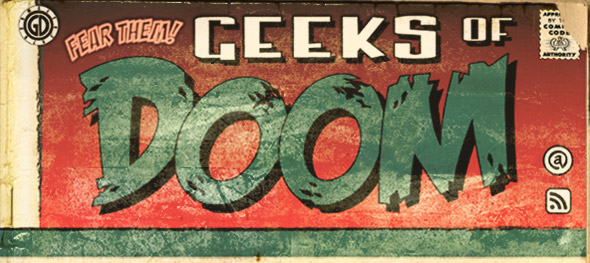 One of the most frustrating things about the Internet nowadays is wading through all the crap; okay, so that's always been an issue, but with so many entertainment sites out there, it's really hard finding one with any staying power.  You know what I mean: you come across a brand new site via a great article, you bookmark it, then a week or a month later you see that they just stopped updating it.  I don't know about you, but I won't bookmark – or for that matter return to – a site until I check out to see how far their archives go back.  If they've only been around for a few months, I'm going to raise the skeptical flag and likely move on – if they've got years worth of archives, and the content is solid – bam, they just earned my bookmark.  Geeks of Doom?  Bookmarked!
GoD covers just about anything/everything geek, from comic books to movies, along with plenty of video gaming in between.  While I have never been into comic books themselves, I am still about as big of a nerd as you can get (we all are deep down, aren't we?), so I find almost everything on this site enjoyable.  While it's not as high-scoring as say io9.com, Geeks of Doom is up there with the best and definitely deserves this shout-out.  With more than 83,000 likes on Facebook, they're obviously doing something right – check them out today, and tell them LFG sent you!