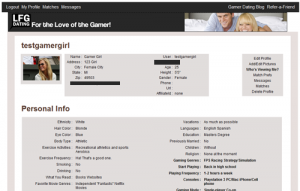 Do NOT Commit This Major Online Dating Mistake (It's My New Pet Peeve!)  And while the ladies over at Glamour do make a great point, the true can be said for their team as well.  Whereas guys may be bland and have dull profiles, there is an argument on the female profile for pure repetitiveness, as it seems that every single woman "loves to travel, or is passionate about traveling".  The bottom line, ladies and gentlemen, is that both sides suck, and can get considerably better.
My fellow LFG founder said it best in his recent article, Breaking the Ice: put some thought behind it, be brief, and make comments that matter.
We have a huge amount of pride in our homemade profile page (let alone our entire homemade custom website!), as we strive to keep it simple, clean, and to the point.  The bottom two sections gentlemen (and ladies) is your time to let the creative juices fly; the pictures may get someone in the door, but it's the bottom line of your profile that will seal the deal.
Thanks to Thinkstock for the cover photo, Glamour for a great article, and be sure to register at LFG Dating for free today!