Back in January, Casey hinted at new behind-the-scenes community improvements we were undertaking to improve the LFGdating user experience through profile verification. Today, and after multiple month's worth of testing and user feedback, the team is thrilled to announce the full rollout of LFGdating's profile verification system which brings even more authenticity, security, and privacy to each and every LFGdating member around the globe.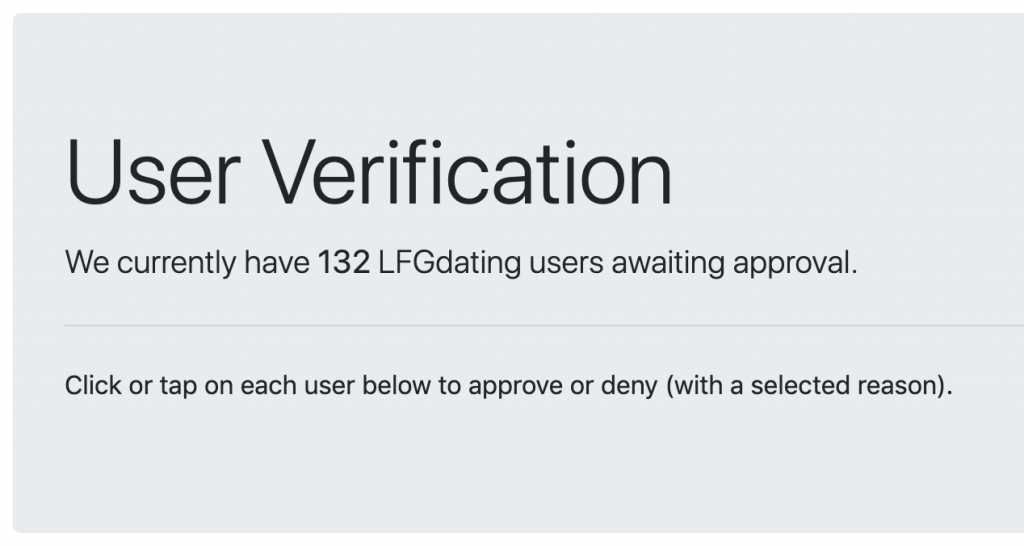 While much of the front-facing features for the profile verification system are only visible to us, the LFGdating team, here's an overview of the process so we add some transparency to how this new system works:
Once you've created a profile at LFGdating, you'll have full access to browse matches, add profile photos, etc. – just like you normally do – but with one catch: your profile is essentially *invisible* to other members until your account is approved by our human staff.
Within 24 hours of profile creation you can expect an email notification from our team that states whether you were approved, or if your account is still needing additional action steps to complete the approval.
If your account is approved, your profile will no longer be invisible to others, which means other users will see you now in their matches, profile views, and favorites.
If you account approval notification said we need additional info from you before we can mark your profile as approved, we'll be sure to let you know in the email exactly what we need to complete the process. Often times, that includes uploading a profile picture (of yourself), answering one or more of our profile blurb questions, or other simple and quick options to help prove to our staff you are human.
We also understand that some users just want to create an account to lurk; they may not be ready to try online dating, and so they just want to see who is out there, and if they're comfortable using the site, service, or app. Well, this feature is also built just for you, since the overall goal of this update is to provide a more authentic experience for all: approved users equates to less spam, less ghosting, and a more enjoyable, safe experience for all – no matter if you're just here to browse or if you're seriously looking for love.
Much more to come on this feature as it evolves! Click here to create a profile, and thanks for choosing LFGdating!