New Feature: LFG's Favorites System is Live!
Ladies and gentlemen, version one of LFGdating's new favorite matches system is now live, and is completely free for all users.  We've had countless number of folks request this feature, and after giving everyone a sneak peak last month, we're absolutely thrilled to pull the curtain back on this exciting new functionality right before the holiday season kicks into full gear.  Full details are below as always!
Alright, so let's talk details on this awesome new favorites system.  First off, and just to reiterate, this entire system front to back is 100% free to all LFGdating members, no matter if you're a premium member or not.  How awesome is that?  Members constantly ask Casey and I for more free member functionality, so we're pumped to deliver with something awesome.  Second, version one of this system features two different parts altogether: the first of course if your own personal favorites archive page, so you'll always have your own personal repository of the LFG matches who have really caught your attention.  The second pillar to this feature is the brand new "Who's Favorited Me" section (also free!), so now not only can you favorite other members for quick messaging access, but you can see what members have added you to THEIR favorites list as well!  And better yet, the update doesn't stop there: we've also overhauled the user interface for this new system, and will be carrying that over to our "Who's Viewed Me" page in the coming days as well.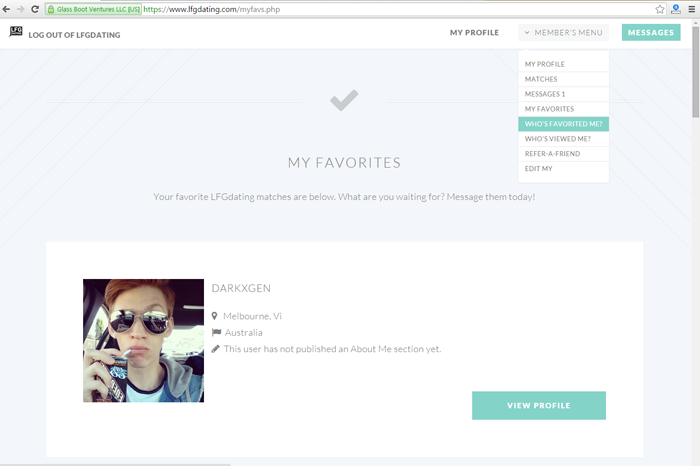 Last but certainly least, I want to stress that we already have exciting new updates coming to this system, some of which are already in internal alpha testing phase so they are legitimately right around the corner.  As soon as the next version is ready we will let you know, but in the meantime thanks for raising your LFG flag, and enjoy the new favorites system!
Have a stellar holiday, and an even better New Year!