What a year it's been!  And with a month and a half still left, 2015 is going to be even bigger for LFGdating, which has already witnessed countless front and back end web development improvements, tons of new user features, and even three incredible HD commercials that were filmed by a gentleman who just so happened to have his own pilot with Comedy Central – yes, that Comedy Central.  So what else is in store for the LFG community this year?  Favorites.
We know the feeling: you come across someone that catches your eye, and then you notice he/she not only passes the eye test, but lands perfect scores on the personality traits as well.  You spill your coffee, and then scramble to hit the "Message" button to initiate contact, only to pull back at the last minute before hitting send just so you can make sure you say exactly what you want to say down.  But wait, how can you quickly navigate back to that user's profile?  Alas, at this point, you can't, and we sincerely appreciate the many users who have pointed this out – very soon however, this will be a thing of the past.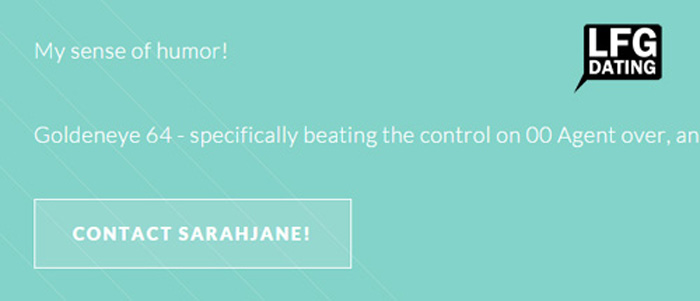 LFG members will soon be able to favorite/bookmark users on the fly, and will have easy access to their entire favorites list for quick and easy navigation.  On the flip side, users will also be able to see who's favorited them, so not only will you be able to see who's viewed your profile, but you can also see which members are even more interested by clicking the favorite button!  Pretty awesome, no?
We're definitely excited, and I know you will be too once we kick it out the beta server's front door and into the live LFGdating environment.  We'll let everyone know once it's battle tested and ready, and we'll also likely have a few other top secret web development features releasing concurrently to announce as well.  Until then, enjoy LFGdating, and have a great fasting session in preparation for Turkey Day!