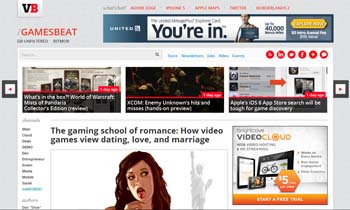 Dating advice is everywhere, from just about – no, every – magazine in your grocery store checkout, to the Internet, and everywhere in between, and to be honest it is all a little overwhelming.  While your mother may know best, you probably aren't too keen on her dating words of wisdom, nor would you trust that weird guy from accounting who claims to successfully work the "VIP" club scene every Saturday night downtown.  So who do you turn to?  Well, hopefully, you turn to LFG Dating – not necessarily for dating advice, but if you're looking past the advice stage and right to love then we've got you covered.  Well what about our hobby: video games?
The good folks over at VentureBeat did just that in a recent, satirical editorial on the "Gaming School of Dating" by Nathaniel Dziomba.  Please note I did include the word satirical in that you don't take it too seriously; I'm not saying the advice wouldn't work, I'm just you've probably got better odds picking up that cute girl's phone number on the morning bus by talking about your finger nails.  Now all that being said, this is a great read, and it made me laugh.
Click here to check out VB's article on video game dating advice, and if you haven't already, click here to register for free at LFG Dating!  You honestly didn't think we'd post a new article without giving ourselves a shameless plug, did you?