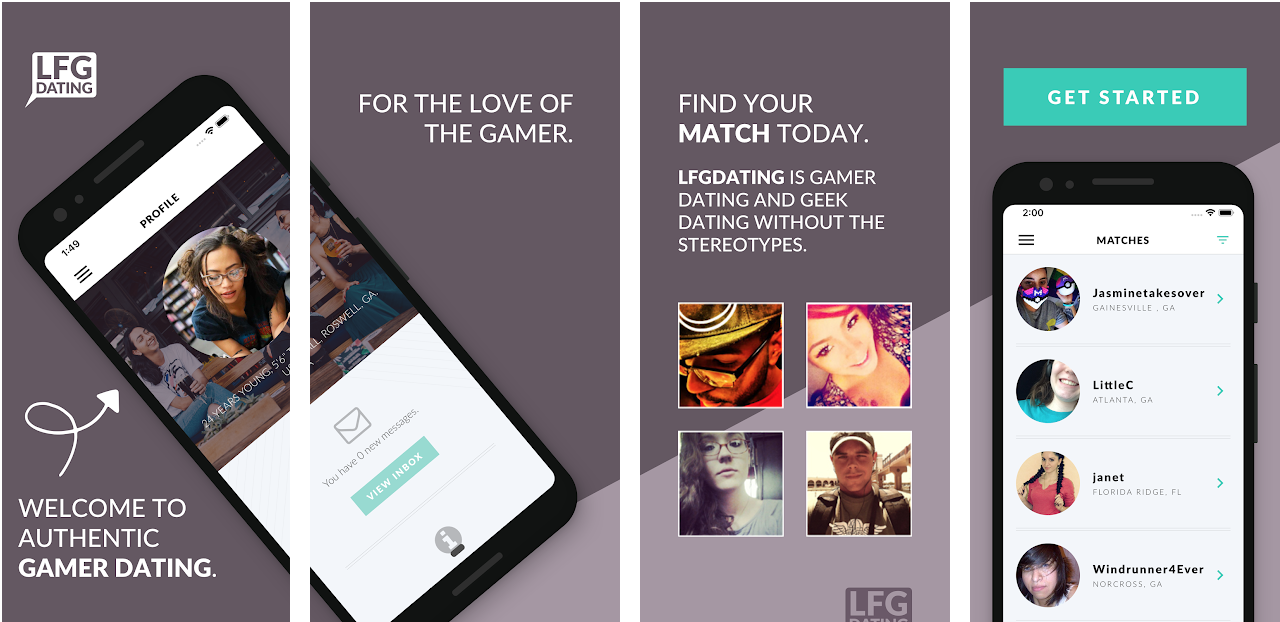 Launch Alert: The LFGdating Gamer Dating App for iOS and Android Has Arrived
"Do you have an app?" Casey and I would hear this question all the time; whether we were talking with gamers at our LFGdating booth at a major gaming convention, or we had a random group of curious friends notice the LFGdating hoodies we were wearing as we worked out of a Starbucks on a work weekend, we could tell the demand was there. While LFGdating.com is a fully responsive, mobile-friendly website, we made the decision back in early 2016 to start mapping out the LFGdating app. And so today, we are thrilled to finally answer the thousands of gamers who have asked that question with a resounding yes – the LFGdating Gamer Dating App is now live for both iOS and Android.
Focused on the User Experience
Just like our website, which has been helping gamers find love since 2012, the LFGdating gamer dating app is 100% free to download. Creating a profile is free, and you're able to browse matches, add photos, mark your favorites, see who has favorited you, and tons more all within the same free member tier that we offer on the web. In fact, we even carried over one of our most popular web features in that free members can even reply to messages from premium LFG'ers – how awesome is that?
While we wanted to maintain the same clean user experience on the app that LFGdating.com offers, we also heard a lot of quality feedback from those conversations with gamers at conventions and on the street that phone or device space really mattered. Since we listen to the LFGdating community, we think we delivered on this request with the LFGdating Gamer Dating iOS app checking in at only 44 mb, and the Android version requiring only 17 mb (that's not a typo) of your Pixel's hard drive. If you're interested in a comparison, Tinder on Android requires 26 mb, and OKCupid needs 21 mb of space.
Unbeatable Premium Options
Back in 2017 we published an extremely popular and eye-opening gamer dating pricing guide which covered down on all the major dating options available to gamers, both on the web and on the phone. What we found is still shocking to hear: a gamer's online dating options are extremely expensive, unless of course you look at LFGdating. Seeking to still deliver the best gamer dating experience on Earth, we elected to maintain the exact same unbeatable premium tiers on the LFGdating Gamer Dating Apps that we do on the web:
1 Month Subscription: $4.99
3 Month Subscription: $9.99
6 Month Subscription: $19.99
Online dating subscription pricing at those levels is unheard of on the web and with dating apps, but not with LFGdating: we've maintained the same pricing for more than six years. Oh, and we even tried to add our mega-popular Lifetime Subscription option, a one-time $50 upgrade, to the app, but Apple and Android only offer recurring option, so we had to leave that out. However, and this is a pro tip: our gamer dating apps and LFGdating.com are 100% in sync, so you could simply create snag a Lifetime Subscription on LFGdating.com, and then install the LFGdating Gamer Dating App and use that for a full premium experience for life.
Exciting Updates to Come
So now that the LFGdating apps are live, what's next? Actually, quite a bit! While the apps today are only available for United States-based gamers, we are already laying the groundwork to expand the app to a number of new countries – we'll let you guess which ones will be coming next.
We also have a metric truckload worth of new features in the works, for both the web and our apps, that we're close to unveiling and testing out with the community. Many of these new match search filters, profile options, and other feature ideas have come straight from the community, so we are super excited to get them out into the wild to improve upon an already best-in-class gamer dating experience. Of course, we always want to hear more ideas, so feel free to reach out to us on the web or via social with your suggestions!
Download the App Today
To the entire LFGdating community, we just wanted to say thank you for everything over the years. We could not be more excited to officially deliver the LFGdating Gamer Dating App, and we are even more stoked for what's to come in the coming months and years.